El festival mexicano Corona Capital anunció a través de sus redes sociales el lineup de artistas que participarán en su edición de este año, los días 17 y 18 de noviembre, en el Autódromo de los Hermanos Rodríguez de la CDMX.
El cartel es encabezado por Nine Inch Nails, Lorde, New Order, Robbie Williams, Imagine Dragons y The Chemical Brothers. A ellos se unen bandas como CHVRCHES, Panic At The Disco, The Kooks, Death Cab For Cutie, MGMT, BØRNS, The Neighbourhood, Bastille, ODESZA y The War On Drugs.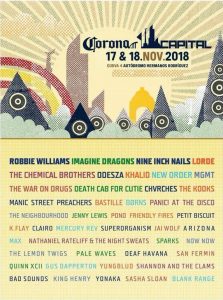 La preventa de entradas será el 5 y 6 de junio a través del sitio oficial del evento. Miren por acá el clip del anuncio:
Vía WARP.