Daft Punk, el dúo parisino responsable de algunas de las canciones dance y pop más populares jamás hechas, se ha separado. La noticia se anunció con un video de 8 minutos titulado «Epilogue«, extraído de su película de 2006 Electroma.
Su publicista, Kathryn Frazier confirmó la noticia al portal Pitchfork, pero no dio ninguna razón para la ruptura. Thomas Bangalter y Guy-Manuel de Homem-Christo formaron Daft Punk en París en 1993, ayudando a definir el estilo de toque francés de la música house. Su álbum debut, Homework (1997), fue un hito en la música dance, con los sencillos clásicos «Around the World» y «Da Funk«. Con el lanzamiento de Discovery (2001), el dúo había comenzado a hacer apariciones públicas con los trajes de robot que se convirtieron en su marca registrada.
Los singles «One More Time» y «Harder, Better, Faster, Stronger» los consolidaron como superestrellas mundiales. Su huella en la imaginación popular continuó profundizándose en los años siguientes, con registros que incluyen el tercer álbum Human After All, el LP en vivo Alive (2007) y el álbum de la banda sonora de Tron: Legacy.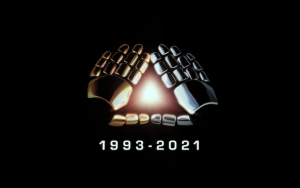 Veinte años después de su carrera, Daft Punk estalló una vez más con «Get Lucky«, el sencillo principal de su álbum de 2013 Random Access Memories. La canción vendió millones de copias en todo el mundo y ganó dos premios Grammy para el dúo y los invitados Nile Rodgers y Pharrell Williams, quienes también aparecieron en el sencillo de seguimiento «Lose Yourself to Dance«.
Random Access Memories le valió a Daft Punk otros tres premios Grammy, incluido el Álbum del año, y la ceremonia acogió una de las últimas representaciones de su espectacular show en vivo.
Desde entonces, el dúo ha permanecido en gran parte inactivo desde el lanzamiento de Random Access Memories, resistiendo ofertas de alto valor  para encabezar festivales o embarcarse en otra gira mundial. Su última aparición en vivo fue en octubre de 2010, cuando fueron invitados sorpresa durante un concierto de Phoenix en el Madison Square Garden. En cuanto a las nuevas grabaciones, su lanzamiento más reciente llegó en 2016 cuando colaboraron con The Weeknd en un par de temas para su álbum Starboy: "Starboy" y "I Feel It Coming".