Trackin' the hits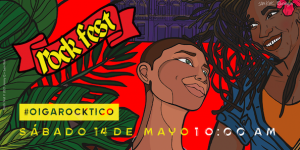 El legendario festival ROCK FEST anunció oficialmente su regreso en sus 25 años de aniversario. Ernesto Adduci creador y productor del fest, anunció lo que será su edición más grande a celebrarse en Parque Viva el 14 de Mayo del próximo año.
Esta edición contará con 3 tarimas y 32 artistas entre ellos Gandhi, El Parque, Kadeho, Alphabetics, Mentados, Nakura y Barzo, Adaptados, Bufonic, Endemia, Nou Red, Billy The Kid, The Movement In Codes, Santos y Zurdo, El Guato, Tropa 56, entre muchas otras.
Habrán 3 escenarios y los niños menores de 12 años entran gratis
Las entradas tienen un costo de 16mil colones a 25mil colones y ya están disponibles en eticket.cr.