Trackin' the hits #79 19-01-22
Recientemente se lanzó el libro que revive e inmortaliza 25 años de historias del festival de rock costarricense más importante hasta la fecha, el Rock Fest.
El libro se titula "Rock Fest: desde el asiento del conductor" y fue escrito por Fo León a partir de una reunión que tuvo con Ernesto Adduci, creador del festival.
También participa el reconocido periodista Victor Fernández, quien escribió el prólogo y fue publicado por Encino Ediciones.
Este libro se encuentra ya a la venta en todas las tiendas de Librería Internacional.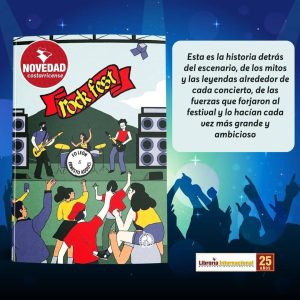 El Rock Fest anunció a finales del año pasado que regresa oficialmente al celebrar sus 25 años desde su nacimiento. El festival se realizará en la edición más grande en Parque Viva donde en 3 tarimas más de 25 artistas se presentarán.
Dentro de los artistas anunciados en el festival resaltan leyendas como El Parque, Kadeho, Gandhi, Inconsciente Colectivo y Mentados pero también hay bandas más contemporáneas como Billy The Kid, Adaptados, Bufonic, Endemia, Nakury & Barzo y Los Waldners.
Las entradas ya se encuentran disponibles en eticket.cr