Radiohead ha anunciado KID A MNESIA, una nueva colección de tres volúmenes que celebra su emblemático álbum Kid A (2000) y su igualmente impactante, Amnesiac (2001).
Lo más emocionante es que KID A MNESIA contiene un tercer disco titulado Kid Amnesiae, con material inédito extraído de las sesiones de ambos LPs. Con 12 pistas en total, Kid Amnesiae se destaca por una canción nunca antes escuchada llamada "If You Say The Word" y una versión de estudio inédita de "Follow Me Around", que la banda había debutado previamente en vivo.
También hay versiones alternativas de canciones como "The Morning Bell", "Pulk / Pull", "Pyramid Song" y "How to Disappear Completely". Como anticipación, la banda ha compartido el tema: "If You Say The Word". Escúchenla a continuación:
La reedición que saldrá el 5 de noviembre a través de XL Recordings, estará disponible en una variedad de formatos, incluido un juego de 3 vinilos color crema de lujo de edición limitada; así como una cinta de casete de edición limitada, un set de 3 CDs  y mucho más.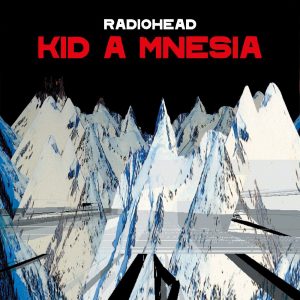 Además, el 4 de noviembre Canongate lanzará dos libros artísticos de Thom Yorke y el director de arte Stanley Donwood, que plasmarán las obras visuales creadas durante la era Kid A / Amnesiac. 
Si desean pre-ordenar algún artículo, pueden hacerlo en el siguiente enlace:  kida-mnesia.com
Vía: CoS