La cita será en Chicago durante al ya muy celebrado Riot Fest. La reunión también incluirá como acto principal a los gigantes del punk Jawbreaker. El festival tomará lugar en Douglas Park del 15 al 17 de septiembre.
Más de 70 artistas fueron anunciados como parte del cartel, entre ellos Descendents, Wu-Tang Clang, M.I.A., New Order, Paramore, Prophets of Rage, Death From Above 1979 y TV on the Radio.
El encuentro tendrá además un DJ set cortesía de Mike D de los Beastie Boys, así como una presentación exclusiva de aniversario de Bad Brains. El próximo jueves, los organizadores revelarán qué actos tomarán parte de la tradición del festival donde artistas tocan alguno de sus discos de principio a fin.
Un año después de lograr la aparentemente imposible reunión de Misfits, el festival ha logrado ahora juntar a Jawbreaker luego de una separación de más de dos décadas; la última vez que el trío tocó junto fue en 1996.
Riot Fest es el tercer concierto que Nine Inch Nails ha anunciado este año, después de los conciertos que tendrá en julio en el FYF Fest de Los Ángeles y el Panorama de Nueva York.
Por acá el afiche completo del festival: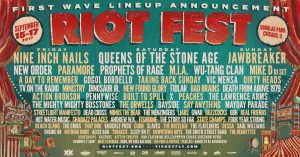 Vía RollingStone.