El escritor y periodista musical Jon Savage, anunció  el lanzamiento de su nuevo libro titulado This Searing Light, the Sun and Everything Else: Joy Division- the Oral History, trabajo al que le ha dedicado 30 años de investigación y que tratará sobre el enorme legado del grupo británico.
Conocido en el mundo entero por ser el autor del que diríamos es el texto sagrado del punk: England's Dreaming (1991), Savage es seguramente la persona con más criterio para llevar a cabo este ambicioso proyecto sobre una banda que se ha llegado a convertir en un grupo de culto de la identidad alternativa.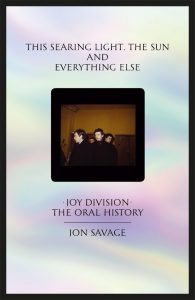 Para la creación de este material, Jon entrevistó a los miembros sobrevivientes del colectivo agrupación: Bernard Summer, Stephen Morris y Peter Hook, también a Deborah Woodruffe, viuda de Ian Curtis, además, recopiló información sobre el período de actividad de la banda y profundizó acerca de la irrepetible huella que dejaron en la historia de la música después de su desaparición  en 1980, tras sólo 4 años de actividad.
El libro se publicará bajo el sello editorial Faber & Faber entre marzo y abril del próximo año y se espera que llegue a las librerías latinoamericanas a mediados de junio.
Vía NME.