En un esfuerzo por salvar los recintos de música independientes en E.E.U.U. afectados por la pandemia, YouTube Music se está asociando con la Asociación Nacional de Lugares Independientes para realizar el #SOSFest.
El festival virtual de tres días, que tendrá lugar del 16 al 18 de octubre, contará con 35 presentaciones originales grabadas en vivo desde 25 salas de conciertos independientes en los Estados Unidos.
Entre los artistas programados se encuentran Foo Fighters, Miley Cyrus, Dave Matthews, Demi Lovato, Phoebe Bridgers, The Roots, Brittany Howard, Portugal. the Man, Rise Against, Black Pumas, FINNEAS, Nathaniel Rateliff, The Lumineers, Leon Bridges y más. El comediante Reggie Watts será el anfitrión del festival.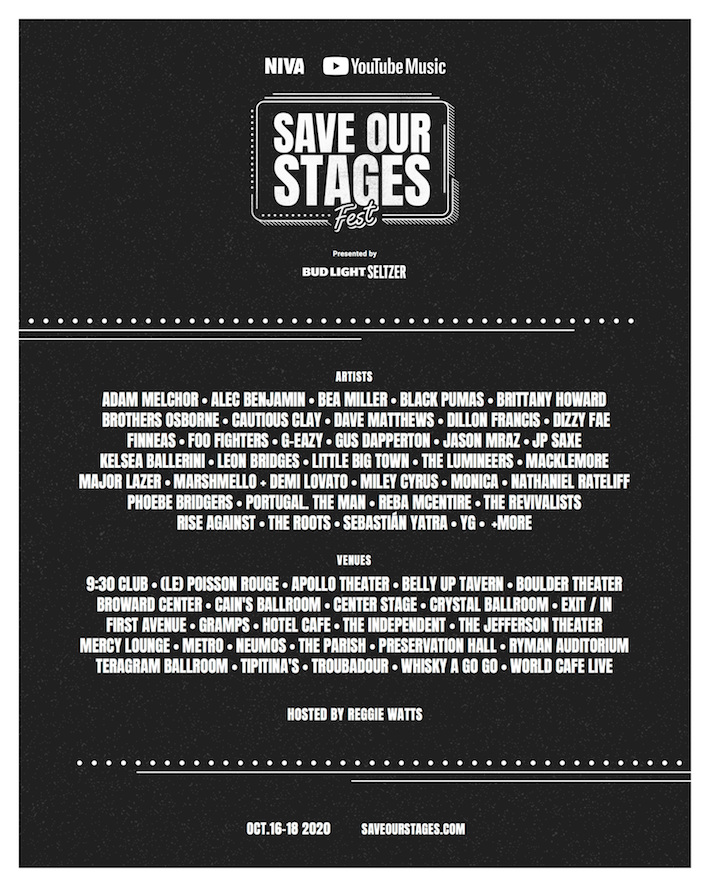 Durante la transmisión en vivo, se alentará a los espectadores a donar al Fondo de Ayuda de Emergencia de NIVA, que beneficia a los lugares independientes en peligro.
Para ver la transmisión pueden hacerlo a través de este enlace: