El lanzamiento del nuevo disco de QOTSA es inminente.
Buenas noticias para los amantes del rock alternativo: El nuevo disco de Queens of the Stone Age está listo y mezclado. Las noticias vienen desde Lurssen Mastering en Burbank, California, quienes compartieron una foto de la banda en Facebook. Una subsecuente publicación en Instagram incluyó la leyenda «Un álbum terminó de mezclarse…»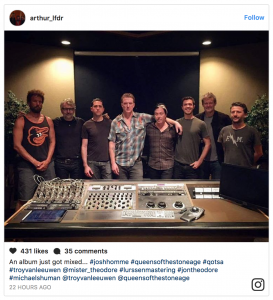 A la fecha, la banda ha compartido detalles mínimos sobre el lanzamiento del álbum, pero Josh Homme recientemente dijo que publicarían un sencillo antes de que la banda fuese de gira por Australia en julio próximo. Lo que sabemos por seguro es que la agrupación continúa añadiendo fechas a su gira promocional: han sumado presentaciones al festival Outside Lands de San Francisco y al Riot Fest de Chicago.
Vía CoS.