El caos reina en el primer tráiler de Woodstock 99: Peace, Love, and Rage. El documental se estrenará en HBO el 23 de julio y se transmitirá por HBO Max.
Al igual que su encarnación original en 1969, Woodstock 1999 se llevó a cabo en el estado de Nueva York como una celebración de la música. El evento acogió a 400.000 asistentes desdichados, ya que el calor excesivo y la mala planificación se combinaron para una de las peores debacles en la historia moderna del festival. La multitud se volvió violenta, a tal punto que arrancaron la madera contrachapada de las paredes y le prendieron fuego. Los conciertos dieron paso a múltiples informes de violación y agresión sexual, así como de saqueos, vandalismo e incendios provocados.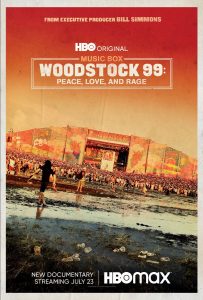 Dirigida por Garret Price y con la producción ejecutiva de Bill Simmons, Woodstock 99 cuenta la triste historia de «el día en que murieron los noventa». Los organizadores Michael Lang y John Scher explican qué salió mal, y entre los artistas entrevistados se incluyen a Jonathan Davis de Korn, Tariq «Black Thought» Trotter de The Roots, Jewel, Moby, Scott Stapp de Creed y The Offspring. Además, los críticos culturales Wesley Morris, Maureen Callahan y Steven Hyden también intervienen, al igual que algunas personas  que asistieron al festival, en julio de 1999.
Miren el trailer por acá: